Bloggery - Highlights - Archives
Bacon
February 15, 2011 - View Single Entry

One of the staples of my culinary repertoire is quiche, and for quite a few months the default setting for quiche has been linguiça and spinach. Tasty, yes, but I was ready for a change. I turned to Phyllis Ann Karr's Bacon-Cheese Pie recipe in one of my most-consulted cookbooks.
You have probably never heard of this cookbook: Her Smoke Rose Up from Supper. It is one of only two cookbooks that I have ever had, or probably ever will have, a recipe in. The other one was The Bakery Men Don't See. The science fiction fans among you will recognize both titles as riffs on titles of short stories by the late, very great James Tiptree Jr., aka Alice Sheldon: "Her Smoke Rose Up Forever" and "The Women Men Don't See," respectively. Both cookbooks were published as fundraisers for the James Tiptree Jr. Memorial Award, with which I was happily associated in its early years.
Aside #1: The cookbooks were published in 1993 and 1992, again respectively. It is sobering to realize that not only was I an adult 20 years ago, I was over the hill 20 years ago. Carry on regardless.
The recipe calls for 3/4 pound of sliced bacon. I cooked up a full pound, figuring I'd easily devour a quarter of it in the prep process. I love bacon but I don't buy it very often; it's messy to cook in single servings. Absence makes the heart grow fonder. What I ate in advance was closer to half.
My mother cooked bacon far more often than I do: she was cooking for six, after all, while I cook for one. She'd roll up partial slices and eat them raw. I did likewise. We didn't die of trichinosis. We didn't call it sushi either.
Once the cooked bacon was draining on a paper towel, I sautéed four chopped small- to medium-sized onions in some of the bacon fat, then stirred in 2 tablespoons flour, 1/2 teaspoon caraway seeds, and a cup and a half of buttermilk. I stir stir stirred till the mixture thickened, then I added three beaten eggs, a teaspoon of Dijon mustard, and a heaping cup of grated habanero cheddar cheese.
Aside #2: My mother loved spicy food. The rest of us were steeped in New England bland and distrusted anything hot. Once out in the wild world, however, I discovered hot and spicy. The cheddar in Phyllis Ann's recipe isn't habanero, but as Ursula K. Le Guin wrote in the preface to her Cream of Food Soup recipe in the same volume, "We think back through our mothers, but we must take responsibility for our own blending." The habanero cheddar is for you, Mum.
At this point I realized that I'd forgotten the salt. Salt? With more than a cup of cheese and at least half a pound of bacon? Be brave, Susanna. You can skip the salt.
I rolled out the pie crust dough that had been chilling in the fridge, patted it into my pie pan, tore the cooked bacon into bits -- eating a few and licking the grease off my fingers -- and covered the bottom of the crust with them. Over that went the cheese, milk, and egg mixture. As I slipped it into the oven, Rufus Wainwright was singing Leonard Cohen's "Hallelujah." Travvy got to lick what was left in the pan.
The pie then baked for about half an hour at 400 degrees. Now Trav and I are going for a short walk. When I get back, I'm going to eat some of it.
Clippings
February 09, 2011 - View Single Entry

I grew up toward the end of the Age of Letter Writing. No one knew this age was coming to an end. We didn't call our letters "snail mail" either. Mail involved sheets of paper, a writing instrument, an envelope, and stamps. What other kind of mail was there?
I loved writing letters. I loved getting letters. Most of the time I loved opening letters -- unless the letter was from my mother. Letters from my mother looked like the best kind: the envelopes bulged outward the way envelopes do when they contain several pieces of paper. But they rarely lived up to their first impression.
Letters from my mother usually contained a short handwritten note (my mother's handwriting was as illegible as mine) and at least half a dozen newspaper and magazine clippings. The clippings might be about national or international events, or about the achievements or death of someone I'd known in grade school. I did like the cartoons and comic strips, but that still didn't make the packet a letter.
Other than the handwriting, there was precious little of my mother in those envelopes.
Almost two weeks ago I finally got myself on Facebook. I'm liking Facebook, but logging on reminds me of getting letters from my mother. Many, many posts consist of hyperlinks to online sources: news stories, essays, photographs, other visual art, and so on. These have no direct connection to the poster; the poster is just passing them along. The way my mother passed along all those clippings.
I've been online since 1994, so this is not new, and it certainly isn't peculiar to Facebook. For years friends and acquaintances have been sending me links to articles and cartoons and petitions; they forward stuff to me that's been forwarded to them by friends of friends of friends (often with the whole long line of transmission intact -- but that's another rant). OK, fine: this stuff is easy to delete if I don't have time or am just not interested. But why doesn't someone who's known me for several years realize that I don't want to read racist jokes or endorse an anti-choice political candidate?
The Age of Letter Writing may have drawn to an end, but the need for genuine communication -- the kind where I listen to what you're saying and respond to it, and you respond to my response, and so on -- is still very much with us. The mass media serve a purpose for sure, but their communication flows mostly in one direction. When interpersonal communication starts to look like that, we're in trouble.
Bread Demo
February 04, 2011 - View Single Entry

I made bread this week, which isn't unusual, but I also took pictures of various stages in the process, which is. Here are some of them, with accompanying explanations.
Most of the bread I make these days is raised with a sourdough starter. A jar of starter resides in my fridge (see pic on right). The morning of the day before I want to bake, I pour the starter into my big bread bowl, then whisk in a cup of very warm water and one and a half cups of unbleached white flour. After it's sat out on the counter for about 12 hours, it looks like the photo on the left. In warm weather, it takes less time.
Then I stir or whisk the starter to get the bubbles out and pour half of it back into the jar. It goes back into the fridge to wait till I make bread again.
| | |
| --- | --- |
| | To the remaining cup of starter, I add about 1 3/4 cups liquid. This time I used about 1/2 a cup of applesauce and enough warm water to make the required amount. |
Then in goes about 1/4 cup oil or melted butter, 2 tablespoons honey (or molasses, maple syrup, or brown sugar -- something sweet), and enough flour to make a thick batter. I use a combination of whole wheat and white. It usually takes 3 cups or so. Then it stays out on the counter overnight, and then some, depending on the temperature. About 12 hours this time of year. The batter will rise and look lighter and more bubbly than it did the night before. Sorta like this (above).
Next you stir down the batter, add a scant tablespoon of salt, 1/2 a teaspoon of baking soda, and (if you're like me and love bread with stuff in it, like raisins and chopped walnuts) add a couple handfuls of stuff. This time I used dried cranberries. Then start adding flour, whole wheat and/or white in whatever combination you want, until the batter becomes dough that you can knead.
On the left is what the dough looks like before you start kneading. On the right is what it looks like after you've been kneading for 10–12 minutes. Isn't it cool? This is why I'll never, ever let a machine do my kneading for me. Feeling the dough transform under my hands under my hands is just too magical.
| | |
| --- | --- |
| After the dough has risen to about double its size, split it into as many loaves as you want (for me it's usually two), roll each piece out, and shape it into a loaf. Round loaves don't need rolling, but do knead them a bit to get the extra gas bubbles out. | |
The loafed dough on the left is ready to rise. On the right it's ready to bake. It took five or six hours to get from one stage to the other. The warmer the temperature, the faster it rises, but sourdough generally isn't nearly as fast as active dry yeast.
Bake at 375 degrees F for about 35–40 minutes and this is what it looks like: Still Staff-of-Life with Beer Bottles and Stein.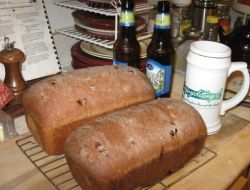 January License Plate Report
January 31, 2011 - View Single Entry

My month was made when I spotted Louisiana about halfway through it, but it got better at the end: West Virginia! I didn't see a single West Virginia all last year.
The first few days of the new year all I saw was Massachusetts. The other New England states weren't even in my first five. Then things picked up. Here's the YTD tally, in order of appearance:
Massachusetts, New Jersey, Virginia, Pennsylvania, California, Ohio, Maine, New York, Rhode Island, Texas, Louisiana, New Hampshire, Maryland, Illinois, Connecticut, Vermont, Colorado, Wyoming, Florida, Washington, West Virginia.
That makes 21, less than half the total, but pretty par for the course.
The license plate game has simple rules. Vehicles have to be spotted on the Vineyard, and the registrations have to be current. Ferry sightings count: if a vehicle is on the boat, either it's just been on island roads or it's about to be.
Comfortable
January 30, 2011 - View Single Entry

Another one from To Be Rather Than to Seem. I drafted this one entirely in longhand, with one of my fountain pens. The Washington Area Women's Center was my gateway to the D.C. women's community, and I've got lots more to say about it. The challenge is to sort out what influenced me as a writer from what influenced how I see the world -- two things that really can't be separated out one from another. Sooner or later I'll get it all worked out. Read on!
When I found it, the Washington Area Women's Center was housed in the basement of the old Sumner School at 17th and N Streets, N.W. The stolid brick building had been out of educational service for several years. Outside, it still looked like a school, but the interior had the look of a place condemned, as if the wrecking ball had forgotten to show up.
The city knew we were there, or at least someone at city hall did: we paid $100 a month rent, and our shoestring neighbors did likewise. We weren't squatters, though it felt as though we were, in a good way: "living in the chinks of your world-machine," as the short-story writer James Tiptree Jr. put it in "The Women Men Don't See."
From N Street you crossed an asphalt playground encircled by a chain-link fence. A few concrete steps led down to the basement, where the women's center occupied the first room on the right. The door was always open. Volunteers had painted the walls yellow, a good choice for a room where nearly all the available light was artificial. The chairs, sofa, and tables were scrounged either from the alleys of Washington or from our houses, apartments, and workplaces. The center's feminist library was shelved on pine boards that rested on cinder blocks or bricks and were stacked three or four high.
The office was the area surrounding one of those ubiquitous metal desks that needed at least two strong-backed women to budge it. The desk, or more specifically the telephone that rested on it, was the heart of the women's center. We were a feminist hotline, information center, and referral service as well as a drop-in center and meeting place. We got calls from young women who thought they might be gay, parents whose daughters had just come out to them, women who were being sexually harassed at work or had been fired after coming out, women who'd been raped, women being battered by their husbands or boyfriends, women in the throes of a breakup, women on the brink of suicide.
In those days, social services, both nonprofit and governmental, were rushing to catch up with the vast demand for shelter, counseling, advocacy, and other services for women who were victims of violence, harassment, or discrimination. The Washington Area Women's Center was one of hundreds, probably thousands of small feminist organizations trying to fill the gap.
Most of the calls were from women with questions. Who were the competent feminist- and lesbian-friendly physicians, gynecologists, and shrinks? How about electricians, plumbers, or lawyers? Are there any women-owned print shops in town? Where's the women's bookstore? What's happening this weekend?
From the phone calls we fielded, we guessed that about half the callers were straight and half lesbian -- we didn't ask anybody to state her sexual preference, of course; we went by the caller's interest. Someone who wanted birth control information was probably straight. Someone who wanted to know where the women's bars were probably wasn't.
We collected information and passed it on. Carefully, of course, especially when the hearsay about a particular professional was less than complimentary. Training as a peer counselor emphasized what we could do and what we couldn't. We could listen, we could provide referrals and information, and we could share our own experience. We couldn't diagnose health problems or give legal advice. Most of us had personal experience with one or more of the issues that our callers were facing. Probably the most important thing I learned working the phones was how important listening is.
A long table along one wall was used for producing our monthly newsletter, In Our Own Write. Naturally I gravitated in that direction and soon became one of the de facto editorial coordinators. I could already type, write, and proofread, and I got to be pretty good at making headlines with presstype, cutting "galleys" (i.e., columns of copy typed on 8 1/2 by 11 bond paper) with an X-acto knife, and laying out pages with the help of a handheld waxer.
Once the newsletters came back from the printer -- Tina Lunson, whose shop on 14th Street produced just about everything that any grassroots feminist or gay organization needed printed -- they had to be collated, folded, stickered with address labels, and then zip-sorted. This was long before PCs that could sort labels by zip code and print an infinite number of copies on adhesive labels. Our mailing list masters were typed on regular bond paper, then we'd photocopy them onto labels -- generally stealing the time, and often the labels, from our various employers. Being a clerical at American Red Cross national headquarters gave me access to all sorts of good stuff, from Wite-Out to carbon sets to Xerox machines.
Even the much larger and comparatively well-funded campaign to ratify the Massachusetts Equal Rights Amendment had run its mailings pretty much the same way: we managed a list of more than 20,000 names completely by hand. By the time the amendment passed, I knew most of the zip codes in Massachusetts by heart. Now I learned those of D.C. and its Maryland and Virginia suburbs. The United States Postal Service had strict requirements for the use of a bulk-mailing permit. Everything had to be zip-sorted and bundled, and all pieces in a mailing had to be identical. Inserts, if any, couldn't be commercial or political. Whatever flyers we carried for other groups' events had to be printed with a line like "Produced in cooperation with the Washington Area Women's Center" to make it legit.
Many of the post office employees were pretty laissez-faire, but some were real sticklers, and a few were overtly obnoxious, maybe because they thought we were a lesbo-feminist-commie front group. Which, of course, we were.
The women's center hosted a weekly rap group. The discussion topics were posted in advance. Some women came because they were interested in a particular topic; a core group of a dozen or so came every week no matter what. After I arrived in D.C. I became one of the latter, and eventually I became one of the rap group leaders. The first time I called myself a lesbian out loud was while leading a rap group on "the sexually uncommitted."
Most weeks, most of the rap group attendees were lesbian, but a significant number were straight. This made the rap group unusual among the women center's on-site programs: the overwhelming majority of those who came to use the library, meet friends, attend Women's Nite Out, or volunteer were lesbians. So was the collective. Most of the "uncommitted" or apparently straight volunteers came out sooner or later, as I had: the women's center was a pretty safe place to try your lesbian wings.
I soon became aware of tension among the rap group regulars -- some lesbians thought the straight women talked too much about men, and some straight women thought the lesbians were being inflexible -- but in the early months none of this bothered me. I thought the whole thing was wonderful, energizing, and a huge improvement over being stuck in my hometown.
Often we'd head out afterward to continue the discussion in the vicinity of alcohol, coffee, and/or food. There were several reasonably cheap restaurants and bars within a few blocks' walk where it was quiet enough to talk and you could get a table for several without waiting very long, especially after 9:30 or so. Deciding where to go after rap group, we tried to alternate between a gay-friendly place and a "straight" or neutral one. If it was a neighborhood bar or the Trio -- a wonderful greasy spoon at the corner of 17th and Q -- everybody went. If we went to the gay-owned restaurant a few blocks away or the café up the block from the Trio that was frequented by gay men from the Dupont Circle neighborhood, only the lesbians went. What was going on? At first I thought it was coincidence, but then a couple of times the "straight" place would be too crowded or too loud and we'd head over to the gay café or restaurant. And both times the straight women came up with reasons to drop out: it was late, they were tired, they weren't feeling great, whatever.
These gay-owned or -managed establishments were emphatically not X-rated baths or cruise bars. Straight women didn't get stared at or propositioned in them. Most of the lesbians didn't feel entirely comfortable in them either -- gay men were above all men, and not immune to sexism -- but women-only or even women-friendly places were so rare that we didn't expect to be 100 percent comfortable anywhere.
Gradually I came to understand why some of my sister collective members were impatient with any suggestion that lesbians should "tone it down" to make the straight women more comfortable. The straight women had plenty of places where they could expect to be comfortable. All we had was the women's center, the women's bookstore, and a couple of bars.
The women's center statement of purpose included as a goal the creation of a place where "all women can be comfortable." This is an impossible dream. It should have been obvious to all of us: A woman who was anti-abortion might have been comfortable at the center, but not a woman who was anti-choice. I don't think any of us were seriously interested in creating a place where anti-choice women could be comfortable. What we meant was "all feminist women," but we didn't say so out loud. I'm not sure we even thought it very clearly. We didn't have to. Anti-choice women weren't knocking down the door trying to get in. They weren't knocking at all.
The lesbian-straight tension, however, couldn't be ignored. It was in our faces: it was us. I started off believing that we could create a space where all women who wanted to be there could be comfortable. A noble goal in theory, but in practice it forced us to ask some difficult questions, like "When making some women comfortable requires other women to tolerate significant discomfort, whose comfort takes precedence?"
Women in general needed places where we could be safe, comfortable, creative, all those good things, as women -- but lesbians also needed places where we could be safe, comfortable, and creative as lesbians, and if women-friendly spaces were hard to find, lesbian-friendly spaces were practically nonexistent.
The next question was "Why should lesbians devote so much volunteer time to creating a place where we had to tone it down to make the straight women comfortable?" It was a hard question to even ask, never mind answer: most of us didn't have much practice putting our own needs and preferences first, and defending our priorities.
No space could be comfortable for all women, I decided, even all feminist women. Meaningful -- as opposed to cosmetic -- diversity required that each of us take some responsibility for our own discomfort, and those of us from relatively privileged backgrounds had to stop expecting those with less privilege to tone it down to make us comfortable. It was easy to say this where men and women were concerned: feminists were willing to be uppity even when it freaked men out. It wasn't so easy when all of us were women. It meant that lesbians weren't obliged to make straight women comfortable, and women of color weren't obliged to make white women comfortable, and working-class women weren't obliged to make class-privileged women comfortable.
When it came to community organizing and politics, I concluded, comfort was overrated.